Contenido principal
Registration of self-employment
< Go back
Through this service you can request registration in the Special Scheme for self-employed or self-employed workers within the Social Security system.
About this procedure
Who it is for
All Spanish nationals residing in Spain and foreign nationals legally residing in Spain, provided they meet the established requirements.
What you can do
Application for registration in the Special Scheme for Self-Employed Workers.
Please note
It is essential that the worker has been assigned a valid Social Security Number.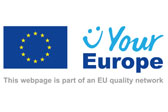 Complementary information Unica European Digital Gateway
Access to the evaluation platform
To access this service check you have the necessary technical requirements.
El acceso a este servicio estará habilitado únicamente cuando se identifique como persona física