Contenido principal
Resolution (duplicate) of registration/deregistration in the Special Scheme for Self-employed Seafarers
< Go back
Through this service, you can obtain, print and/or consult online duplicate copies of the documents corresponding to your registration/deregistration resolutions in the Special Scheme for Self-employed Seafarers.
About this procedure
Who it is for
Workers in a registered/deregistered situation in the Special Scheme for Self-employed Seafarers.
What you can do
Immediately view and consult a duplicate of the documents with the resolution of the registration/deregistration in this Special Scheme.
Download as a PDF and print.

Please note
When accessing this service, you should consider the following guidelines:
The initial data screen shows the data identifying the applicant, which cannot be changed.
Selecting the REGISTRATION Resolution Type will display previous registrations, current registrations, and past registrations.
Selecting DEREGISTRATION Resolution Type will display previous deregistrations and deregistrations.
If no Resolution Type is selected, all types of resolutions that can be generated for the affiliate's NUSS will be displayed.
Entering REGISTRATION/DEREGISTRATION Date will show all types of resolutions for that date that can be generated for the affiliate's NUSS.
The previous registrations and deregistrations will be shown first, and then the remaining ones, in reverse chronological order, in other words, from the most recent to the oldest.
After selecting the duplicate you want, press the "Continue" option and you will be brought on to a new screen with an informative message about obtaining the duplicate of the resolution.
The Electronic Authenticity Code (CEA) in the footer of the certificate can be used to confirm its authenticity through the Document Integrity Verification Service.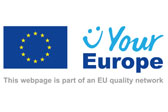 Additional information on the Single European Digital Gateway
Access the assessment platform
To access this service check you have the necessary technical requirements.
El acceso a este servicio estará habilitado únicamente cuando se identifique como persona física