Contenido principal
Comprehensive certificate of benefits
< Go back
This service makes it possible to obtain certificates on pensions received according to the information in the Register of Public Social Services in a single document. You can obtain a summary certificate, with amounts itemised, without amounts, of IRPF, and revaluation, or if applicable, the certificate of suspended pensions, the negative pensioner's certificate or for the beneficiary of deductions.
About this procedure
Who it is for
People who receive a benefit from the Social Security System or a third-party entity that is part of the Register of Public Social Services, as well as people who do not receive a Social Security benefit or a third-party pension.
What you can do
Obtain a single document with the following certificates, according to the information of the interested party that we have:
Benefits summary certificate
Itemised benefits certificate
Certificate of benefits without amounts
Certificate of IRPF
Pension revaluation certificate
Cancelled or suspended pensions certificate.
Negative pension certificate
Beneficiaries of reductions certificate.

Once downloaded, you can save or print all certificates or the ones you need.
What you need to do it
The interested party must complete the data requested on the form.
Please note
It is not necessary to provide any additional documents for processing.
This certificate does not include financial benefits relating to temporary disability, maternity, paternity, risk during pregnancy or breastfeeding, loans for the care of minors affected by cancer or other serious illnesses.
Data entered on the form must match those included in our databases. If they are not the same, receipt of the certificate will not be possible.

Accessing this service and voluntarily entering your mobile phone number implies your authorisation for Social Security to send you SMS messages regarding this or other future informative purposes.

The consolidated benefits certificate contains a unique CEA to access the content of the full certificate.


Next steps
The certificate obtained consists of a .pdf file, copies of which can be printed, which contains a unique CEA code (Electronic Authentication Code) that can be used to check the certificate's authenticity via the Document Integrity Verification Service.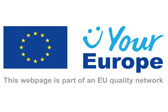 Additional information for the Unique European Online Platform
Access to the evaluation platform
To access this service check you have the necessary technical requirements.
Direct access to procedures